Who's up for another installment? Part I is here.

When we last left Our Heroes, they had made a narrow escape from the Town From Which No One Escapes using a clever scene change. They're on their way up to the mountains to AVEEEEEENGE Daddy Eckert, now trapped in the Worst Gulag Ever. but first, let's stop in on Mr. and Mrs. Mason, some random old codgers who, for plot reasons, seem to be the only people completely unaffected by the Cuban-Soviet occupation.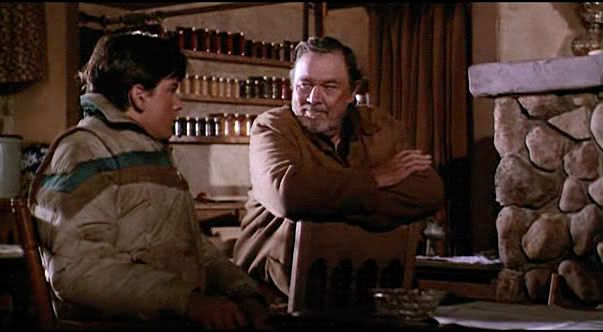 Mr. Mason: "Ah'd a figured you'd have headed for Free America by now."
Matty: "Free America? Where are we, then?"
Mr. Mason: "You boys is in the Occupied Territories."

You may now have a moment to ponder the irony of this statement in regards to America's Middle Eastern policies.

…

Your moment is over. We now return to watching Red Dawn: Triumph of the Mullet.

The Masons give them tea, age-inappropriate alcohol, a radio, and ammunition. But wait! Mr. Mason has a Special Surprise for the boys.



"Here. Have some wimminz to repopulate America."

Meet Toni and Erica. Actually, by the standards of this movie and American action movies in general, they're pretty hardcore.



Since there are now women in the camp, Darryl and Robert decide that they need to up the homoerotic subtext to compensate.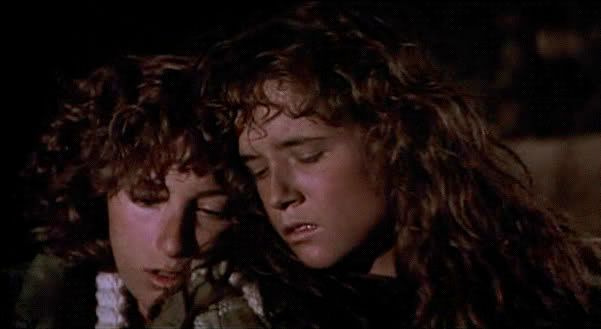 But Toni and Erica fire back a subtext volley of their own.



Ruh-roh! The commies are here.



What follows is one of the funniest scenes in the entire movie. What makes it different than the other funny scenes in the movie is that I think it's sort of intentionally funny, just not for the reasons that I found it funny. At any rate, I'll transcribe it for the full effect.

Russian 1: "You studied English. Translate."
Russian 2: "American history…I know this well.

Arapaho National Battlefield. Here was a great peasant uprising in 1908 of wild Indians. They were crushed by President Theodore Roosevelt leading imperialist armies and cowboys. The battle lasted all winter. More than 35,000 were killed. It was the greatest battle of the American West."

Russian 2: "Bravo!"



Yuri is a camwhore.



"OMG you guys. I am totally posting this to my LJ!"



They don't.



He doesn't.

(Also, what kind of commie atheist says, "God help me?" One played by an American actor. By the way, I think that half the "Cubans" in this film are white guys in brownface. Eww.)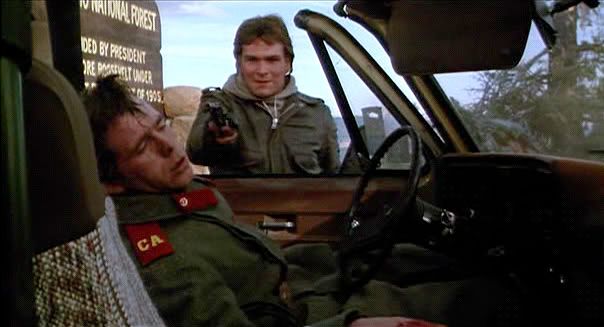 Jeb shows neither emotions nor mercy. He is a godless killing machine.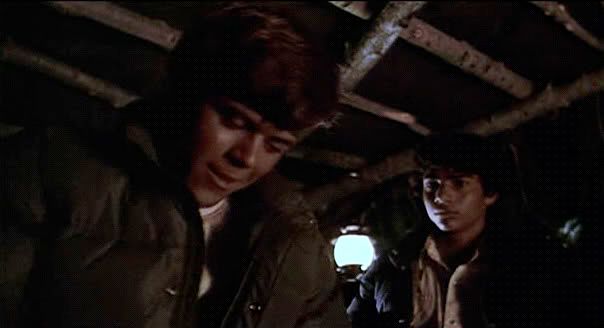 Aardvark: "What was it like [killing a guy]?"
Robert: "It was gooood."

(This isn't me being sarcastic; he actually says that. He really likes killing.)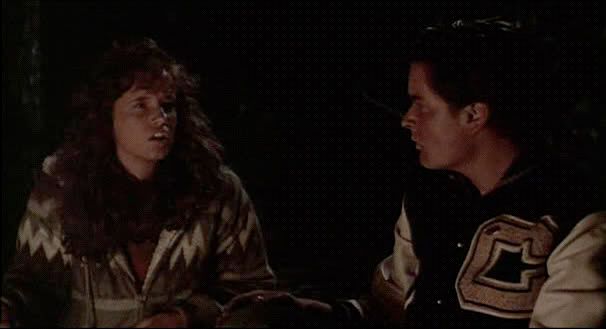 Matty tries to get Erica to do the dishes. She tells him where he can stick the dishes. Hee hee hee. I like Erica.



Darryl's dad is a Democrat, so obviously he's sold out. He tells Col. Bella that he knows his son, and Darryl is "not the guerrilla type."

Then Bella calls the Eagle Scouts a paramilitary organization, and I giggle some more. They're trying to make Bella appear culturally ignorant, but the Eagle Scouts are basically the equivalent of the Young Pioneers, without the wicked flaming Lenin head pins. So he's not far off.



The commies execute a bunch of people, including Daddy Eckert and Daddy Aardvark, for singing a shitty rendition of "America the Beautiful." I don't really blame them either. I'd do the same thing. By the way, these commies do firing squads about as well as they do gulags.



Jed: "Don't cry! Crying is for pussies!" This is a recurring theme throughout the movie.



There will still be crappy American beer after the Revolution. When I launch a successful coup, the first thing I'm going to do is outlaw crappy beer. Well, no. I'll put some people up against the wall first. Then I'll outlaw crappy beer.



The Wolverines, as they will soon be called, launch a surprise guerrilla attack on the commies that's totally ripped off a scene in Battle of Algiers. Unlike in that movie, though, the only reason it works is because the commies decide to chase after them with knives instead of, I don't know, using guns or something.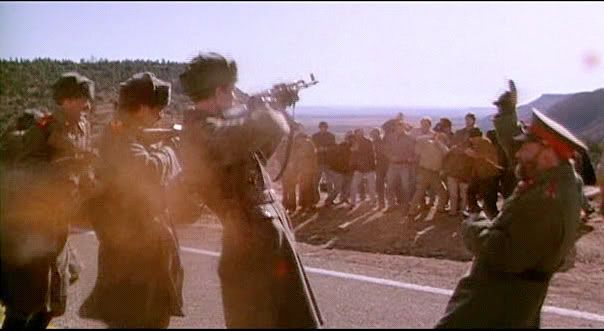 Next, they take out a firing squad, amazingly managing to not hit any of the people who were to be executed. They must be firing magic bullets.



"MUJAHADEEN! WOLVERINES!"



"Meet my new phallic symbol RPG that I somehow managed to procure even though I've been hiding up in the mountains for two months with nothing but hunting rifles and bows and arrows. Also, I magically learned to use it."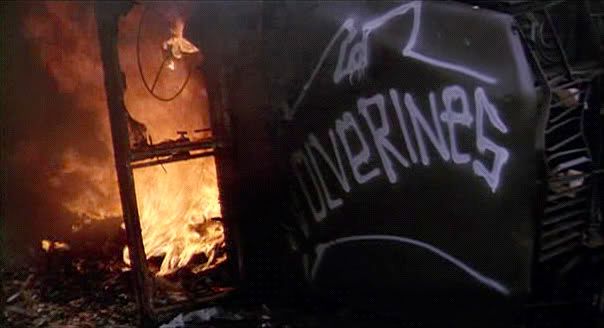 Of course, when brown people defend their country from foreign occupiers, we call it terrorism.



I wonder if it's communist country and western music. I hope so. That's another thing I plan to promote after the Revolution.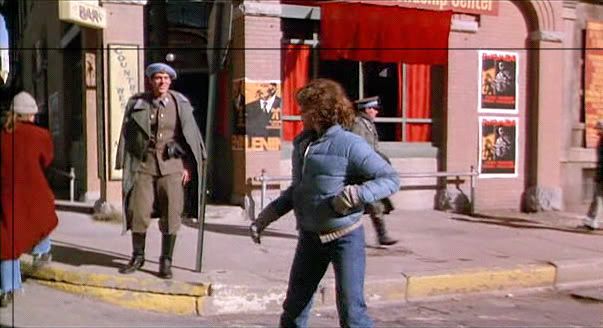 Cuban: "Hi! I am ethnic stereotype who wants to rape you."
Toni: "Uh, I'll be back in a moment."
Cuban: "You bring your girlfriend?"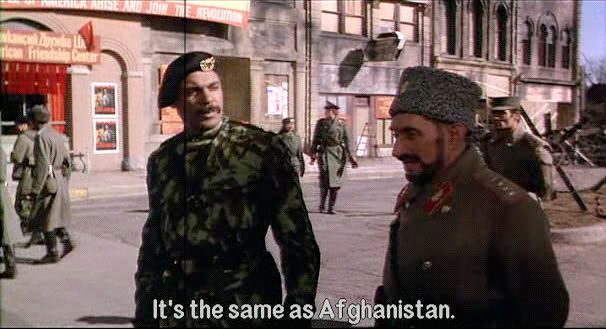 In case you thought I was kidding about the mujahadeen thing.



Bella argues for being a kinder, gentler occupier.



Bella: "As our opponents in Vietnam like to say, win their hearts and minds."
Afghan dude: "That sounds familiar. How did that work out for them?"



Soviet-American Friendship Center: *ASPLODES*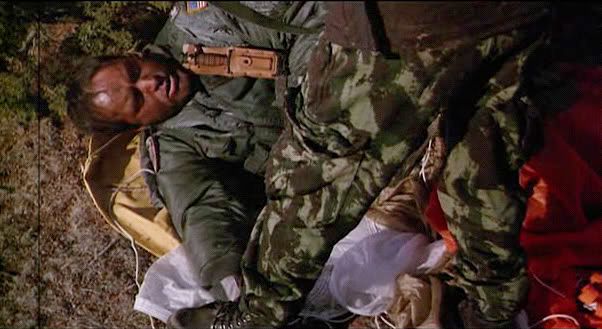 Erica: "What's the capital of Texas?"
Col. Tanner: "Austin."
Population of Austin: "Represent!"
Erica: "Wrong, commie. It's Houston."
Tanner: "Don't shoot me! I'm just here to provide backstory."
Erica: <3 <3 <3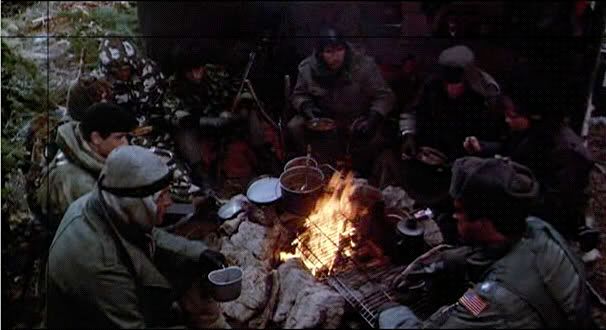 Tanner explanifies about expository things. Basically, the Russians nuked Omaha, Washington, and Kansas City. Then they hooked up with a bunch of Cuban illegal immigrants and Europe were a bunch of neutral pussies who probably cry and blah blah blah Bill O'Reilly was right. Also, the Russians nuked a bunch of Chinese people for no reason other than that they're evil. The Russians, I mean, not the Chinese people. AMERICA STANDS ALONE!

Matty: "But what started it?"
Tanner: "Stop bringing logic to this movie."



Tanner: "We're going to flank their positions and then the B-group will lay grazing fire blah blah military jargon. Everyone clear?"
Everyone: "WTF did you just say?"
Tanner: "We go now blow up Worst Gulag Ever, kk?"
Everyone: "YAY!"
Tanner: "I need a drink."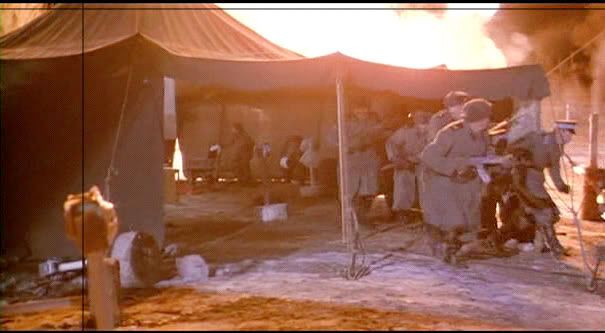 The Worst Gulag Ever blows up good.



Even though Tanner knows how to fly a plane, he blows it up instead of stealing it. It's probably strategizing like this that got America invaded in the first place.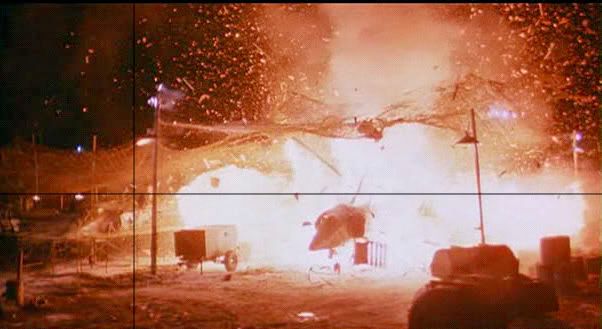 More of the movie's budget went to explosions than paying a decent scriptwriter. By the way, support the WGA strike!

Next up: The thrilling conclusion! And a snot bubble.