I'm in an awful mood, but I thought that posting the rest of this might cheer me up. Or at least make you guys laugh.

Part I, Part II, and now the conclusion. When we left off, the Wolverines had gained some hardcore girls and a downed fighter pilot, blown up the Worst Gulag Ever, and were well into following in the footsteps of those other great Cold Warriors, the mujahadeen. But as they say, it's all fun and games until someone loses a Soviet-American Friendship Center.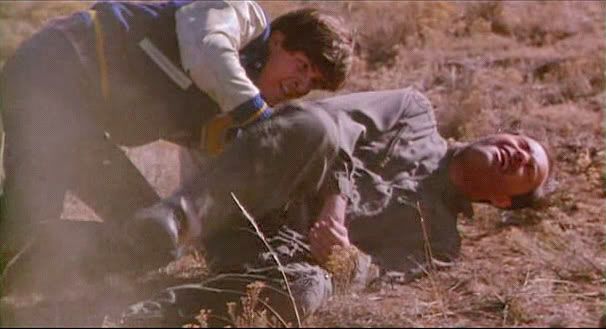 Just because you're waging guerrilla warfare doesn't mean there isn't time for football or man-boy lovin'. There's always time for that.

Speaking of lovin', the relationship between Erica and Tanner is pretty damned strange. It's almost like they really wanted a romantic subplot between a 40-something-year-old married man and a teenage girl and couldn't find a way to work it in. So they mostly just stand around looking awkwardly at each other.



Aardvark: "I'm the only vaguely ethnic protagonist. I wonder if I'll live until the end of the movie!"

(Answer: No.)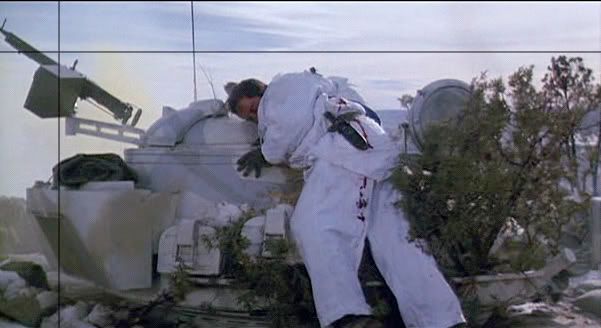 Nor will Tanner be giving any more exposition.

Erica cries a lot over this. No one tells her not to, I guess because she's a girl.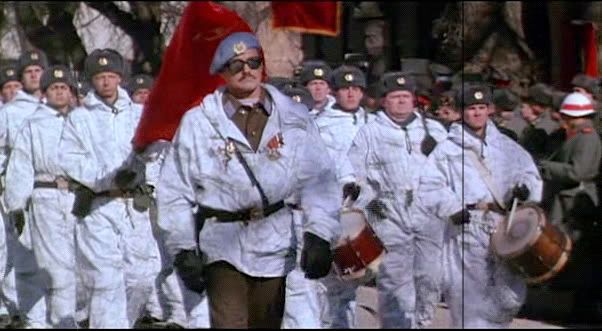 I think the snowsuits take away from the look they're going for here.

Also, they're marching to the Internationale. I saluted during this scene because I'm a dork that way. Shut up. You know that you did too.



This is Strelnikov, one of those cliché action movie villains who believes in a fair, honest fight and killing for the thrill of the hunt. He blathers on about not killing civilians and something about foxes and pigs. It's all very boring and his moustache isn't as good as Bella's. Anyway, the result of this is that the commies dress up in stupid outfits and try to take out the Wolverines. It goes about as well as you'd expect.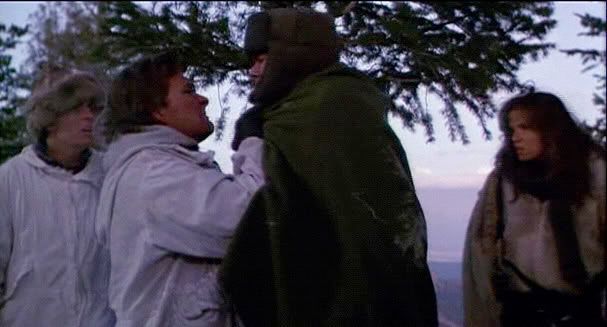 Jed realizes that Darryl (because he's a Democrat, and therefore a traitor) has swallowed a bug that the commies used to track them down.

Darryl claims that he got caught and forced to give them away. No one is buying his story, because in these sorts of movies, people are evil for the sake of plot twists.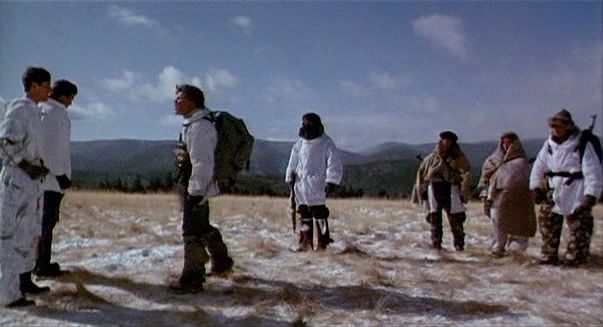 The Wolverines execute Darryl and some random Russian guy that they took prisoner. The random Russian guy mentions the Geneva Conventions, but Jed thinks that they're quaint and outdated.

I have to admit, this is the first of two plot points that I didn't see coming. Anyway, when the commies killed all those people, it was bad, but when Our Heroes do it, it's okay. To his credit, Danny brings up this discrepancy, but Jed claims that the difference between "us and them" is that "we live here." Which means, I guess, if the commies had just bought property before invading, the whole coup d'etat thing would have been totally cool.

Are you ready for the snot bubble? I'm ready for the snot bubble.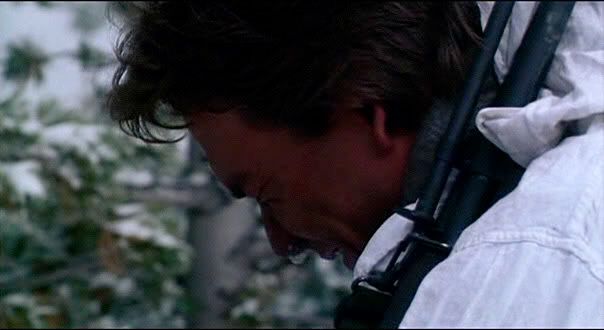 Unlike the time he killed that guy, or the time he killed that other guy, Jed feels bad about having to off his friend. (Or rather, Robert the Psycho does the actual shooting because Jed can't bring himself to do it.) Jed cries like a wee girl, thus betraying the memory of poor dead Daddy Eckert who told him never to cry, ever. Also, there's a snot bubble. Thanks to
emak_bakia for bringing up the important snot bubble issue. I had to pause and rewind about half a dozen times to get it, but it's totally worth it. Snot bubble!



Jed of Arabia!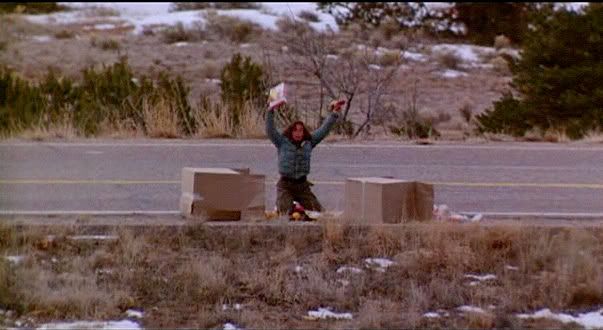 Some food falls off a convoy. I thought that this could possibly be a trap, but it's possibly just a useless couple of scenes to remind us that Americans like to eat like capitalist pigdogs and waste food. The next couple scenes are better, though, because a bunch of Soviet planes come out of absolutely nowhere and start gunning people down.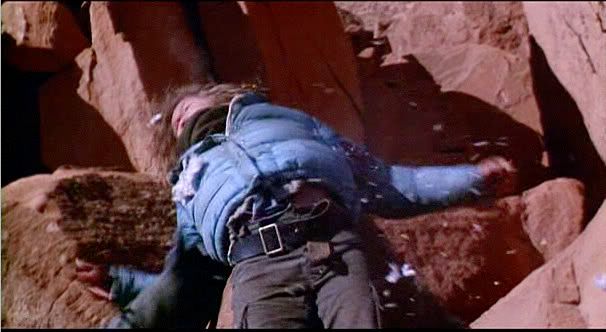 Anyway, this is the other plot point that I didn't see coming. Though I guess there's an action movie trope that states there can only be one girl by the end.



Robert dies doing what he loves best: blowing shit up and killing people.



Toni is also badass 'til the end, asking Jed for a grenade so that she can be a suicide bomber. Remember, kids: Suicide bombing is heroic when our side does it.



Toni: *ASPLODES*



Since we're now down to four, Erica and Danny are selected to be the Two Who Live to Tell the Tale of the 300. Jed and Matt are "all used up." Besides which, Danny's hat totally rocks and it would be a waste for his head to get blown off.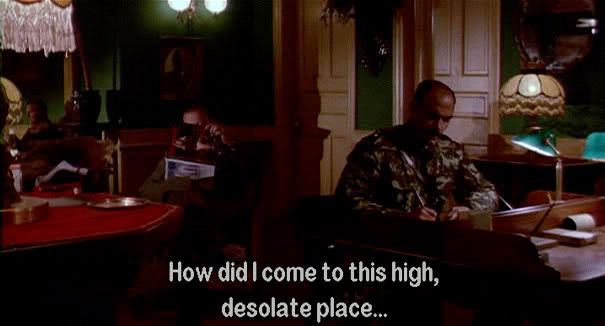 Emo Bella: "I want to go back to Cuba. Wah wah emocakes, black is the colour of my broken soul, etc."



Using their seemingly inexhaustible supply of weapons, Jed and Matt fuck shit up and set some commies on fire.



Jed could totally take out Strelnikov at this point, but instead, he has to be an idiot by announcing, "You lose," thus getting his attention. Which means that they both end up shooting each other. Which also means that no, actually Strelnikov wins, because they both die, but there are still some commies left but no more Wolverines. This is what we refer to as a Pyrrhic victory. But it's a Pyrrhic victory for the commies.



Bella wanders into a touching scene of Jed carrying Matty off so that they can both die in peace. He's about to shoot them, but he's too emo and/or figures that they aren't worth the bullets.



He contemplates the emptiness that is existence and then goes off to read some Sartre and smoke clove cigarettes and listen to the Cure.



They might be dying, but there's still time for one last grope.

Stop looking at me like that. It's brotherly buttsex.



"Blargh I am dead."



Danny: "Hey, check it out! We're free!"
Erica: "But what does freedom mean?"
Danny: "STFU you sound like Bella."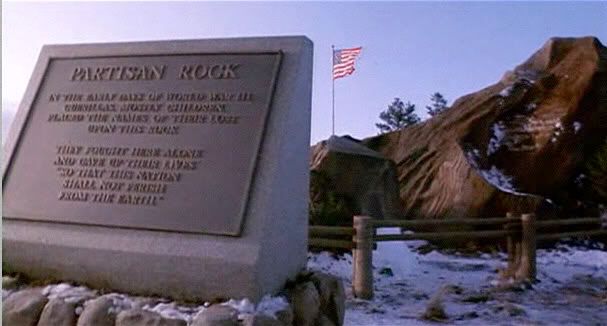 Erica delivers some ending voiceover to appease the test audiences, assuring us that the Americans won in the end, even though it totally looked like the commies were winning in that last scene.

That's all, folks! I hope you enjoyed it as much as I did, and remember: It's okay when we're the ones doing it.