By popular request, I watched Left Behind so that you don't have to. Again. That is how much I love you guys. But you know, this is why democracy isn't a cure-all for political problems, I mean, Huckabee just won Iowa. Sometimes the masses vote stupidly.

Anyway. The Left Behind franchise is awful on a number of levels. It's bad art, it's bad politics, and it's bad theology. The next three posts cannot begin to cover just how very, very awful it is. And don't think that it's "just a book" (or just a series of books, or just a series of movies and a video game where you have to kill infidels). It's quite influential (the books have sold over 65 million copies) and there are people who take it as a literal depiction of things to come. Which is why people like Huckabee get elected.

I assume that everyone is familiar with the story of Left Behind? Rod Steele and Buck Bareback* are two unlucky sinners stuck on Planet Earth after God decides to commit the world's largest genocide by killing off 2% of the world's population (in the movie; I think it's around 20% in the books), including all pre-pubescent children. God is supposed to be the good guy in this, by the way, so you can imagine how despicable all of the other characters are. Suck and Fuck pretty much spend the entire novel talking on cell phones while the Antichrist rises to power through seizing control of the UN, stripping all countries of nuclear weapons, and standardizing world currencies (no, it doesn't make a lot of sense unless you're as batshit insane as the authors).

The frightening thing is that the movie, craptastic as it is, is actually better than the book. For one thing, it stars Kirk Cameron as Balls Deep, which is pretty funny, and for another, whoever made this movie was clearly aware of how much the book sucked and corrected some of the more obvious pacing and setting problems. It's a lot easier to depict a September 11th-style Wall of Missing People in a movie than it is for authors Tim LaHaye and Jerry Jenkins to realistically write a scene portraying actual human grief. So keep in mind that however awful the dialogue and the acting are, what you're about to see is an improvement over the original steaming pile of turdblossom. If you're interested in learning how much the first book sucks, particularly on a theological level, read Fred Clark's series of legendary posts.





Normally, I wouldn't start the mockery so early, but: A-hee-hee-hee look at the 80s graphics!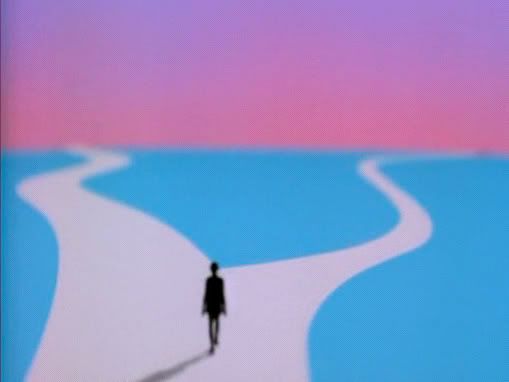 Will you choose to follow the Way of the Master?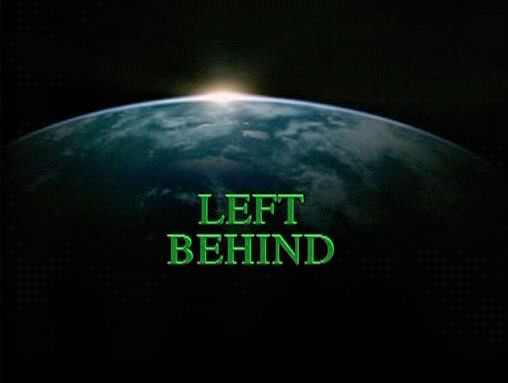 Kirk: "How can you describe both a beginning and an end? We should have known better, but we didn't."

Honestly, there is no part of this movie that is not funny.



We open up with some stock footage of various sites in Jerusalem, and then this inexplicable scene of UFOs hovering over Iraq.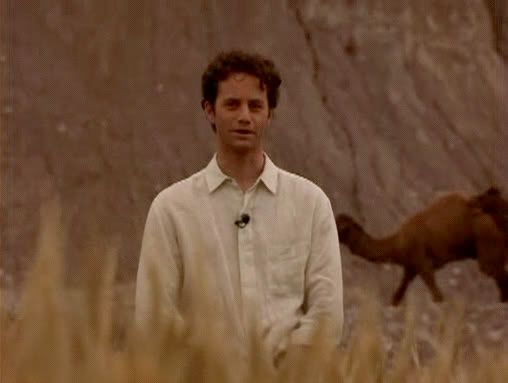 This is Buck Williams. Now I'm not making up the porn star name; he actually goes by that. His real name is Cameron, and he's Jerry Jenkins' Mary Sue character. Anyway, according to the book he's the Greatest Investigative Reporter of All Time, which we can tell is true because he's in Israel but hasn't yet noticed the assload of helicopters and fighter jets hovering above his head. He's kind of dense, I guess. Anyway, he isn't reporting on the air show. He's here to tell you about how Israel made the desert bloom.



The old guy he's talking to is egghead scientist Chaim Rosensweig, who is IN UR DESERT, MAKIN IT BLOOM. Specifically, this is a "wheat field in the middle of the Israeli desert." I think he might mean the Negev—maybe. Given that one of the major excuses offered by Zionists for the expulsion of Palestinians in 1948 involves a pressing need to make the desert bloom, I'm not sure why said blooming desert a big deal in this story, which is set after 1948.

Anyway, according to the Buckster, the skientifical formula that Chaim invented will be something that every government and company wants in light of some recent food shortages. But Chaim refuses to sell it for anything other than peace for Israel.



His touching rendition of "Kumbaya" is rudely interrupted by ZOMG fighter jets. Everyone duck!



Everyone takes cover in the Top Sekrit IDF base that is conveniently right by the Iowa wheat field where they were filming. I mean, the miraculous wheat field in the blooming Israeli desert. You know what happens next, right? Day turns to night and God blows up all of the invading planes. Israel is saved!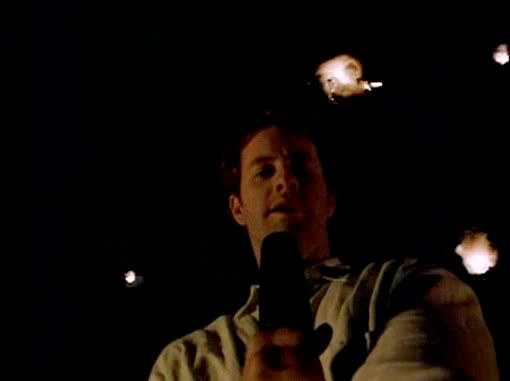 Buck proves how hardcore he is by going out and filming the exploding planes with himself camwhoring in front of them. I appreciate this fellow's dedication to camwhoring, because even I wouldn't do that.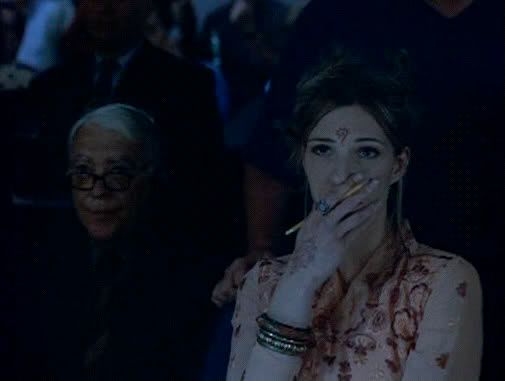 Meanwhile, the more timid souls at the Generic News Network (GNN) watch in terror. "Buck would have filmed Hiroshima at Ground Zero!" one explains. Cultural Appropriation Girl here is too horrified to point out that if Buck had done that, he and his camera would have been vapourized. Which would have been awesome.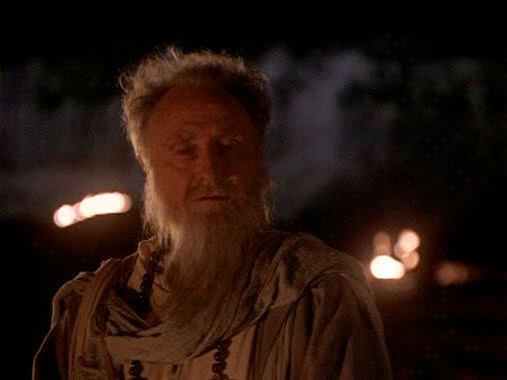 Gratuitous Prophet Dude: "DOOM DOOM DOOM biblical prophecy DOOM! DOOOOOM!"

Okay, that was pointless. Let's meet our next protagonist and see if he's any better.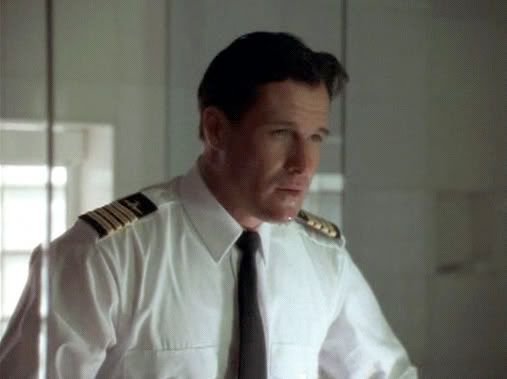 This is Rayford Steele, and for the second time, I'm not kidding about the porn star names. He's Tim LaHaye's Mary Sue, and he's supposed to be rugged and manly and all that. He's a pilot, which is apparently equivalent to minor royalty in the LB-verse.

Steele checks out his manly good looks in the mirror and then starts packing. From this, we can gather that he is focused on his career and doesn't like his family very much.



Okay, but can you blame him? This is Chloe, your basic strawliberal woman who has gotten too much edumakation at her fancy pants college and now wants to be something other than a broodmare for Jebus, and Ray Jr., who is basically a momma's boy. Also, Chloe has a nose ring, making her Hip and Edgy.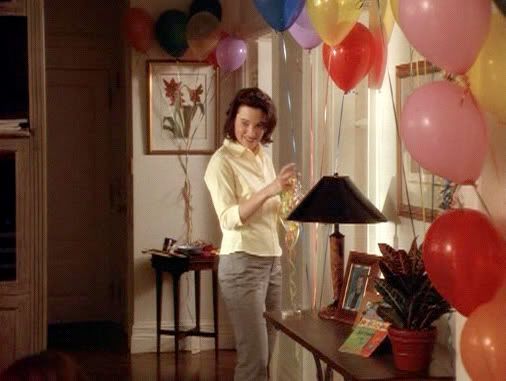 But they're totally cool compared to Irene Steele, who is a psycho fundie version of Martha Stewart. Years of sexual deprivation and Steele's cold hard fist have left her nuttier than a fruitcake, poor thing.



Steele ditches the Raylet's birthday party because he has an actual job. Take a good look, dude, because this is the last time you're going to see your kid alive.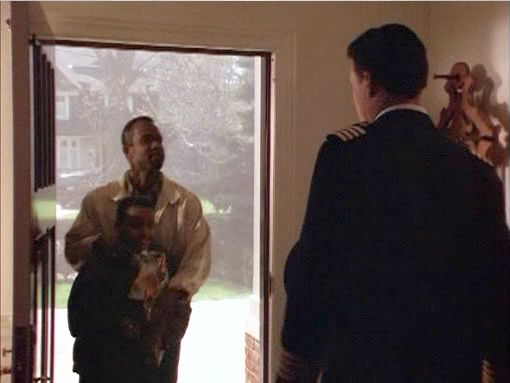 "Hello, my name is Reverend Bruce Barnes, and I will be your Token Black Guy for this movie series." In an interesting twist, Bruce isn't the first person to die in Left Behind, though I'm pretty sure he's the first Tribulation Force guy to bite it. That kid is toast, obviously.



Chloe and Steele have a fight in which it is revealed that Steele doesn't have to catch an early flight after all. He just knows that Irene has invited a bunch of fundie nutjobs to the party and you know what those guys are like when they get drunk.

The Christian adult contemporary soundtrack swells as the scene changes to...



Bucky's –ahem– source calls. His name is Dirk Burton, which is also a pretty good porn star name. Anyway, he whispers like he's on the X-Files about how he knows who is really behind those planes falling. (Spoiler: It's the Jews.) Despite the fact that he sounds like a schizophrenic off his meds, Bucky agrees to meet him in "the usual spot."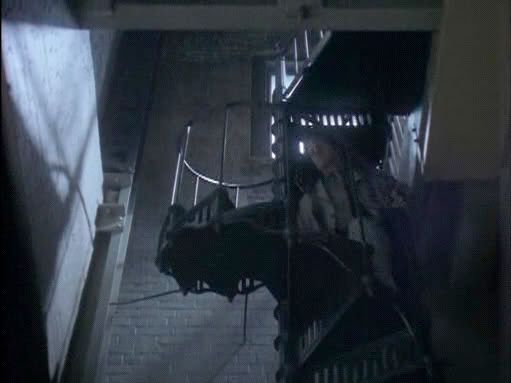 The usual spot is a goth bar.



Dirk Lone Gunmans about some really stupid conspiracy. It has something to do with a One World currency and the Jewish bankers and the CIA and the Mossad. Bucky takes him seriously, but all Dirk will give him is a college essay/plan for world domination written by Stonegal, one of the Jew bankers, and a promise that he's going to blow the whole conspiracy out of the water. Ooookay.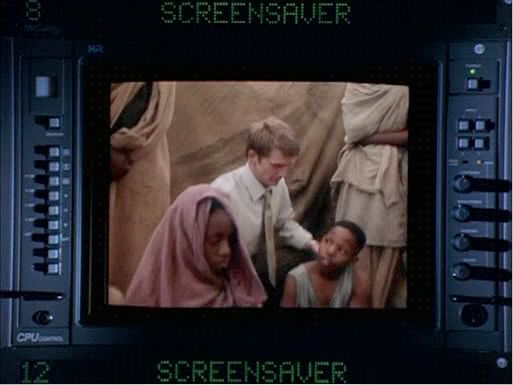 It's the World Vision infomercial of the Antichrist! Meet Nicolae Carpathia. He's trying to end hunger and bring about world peace, which from a Christofascist perspective makes him the villain of the story.

As Bucky fanboys over Nicky, his boss shows up and mentions that Europe has standardized its currency with Korea, proving that the Jewish banker part of Dirk's conspiracy theory might actually be true.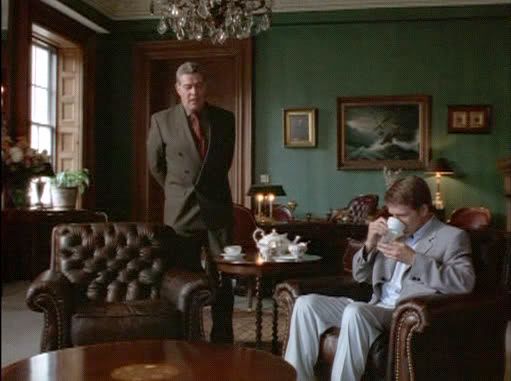 Stonegal and Nicky meet in a castle in London to make eeeevil plans. The plot is basically as follows: Using Stonegal's whackload of cash and Nicky's position in the UN, they will bring about World Peace. Muahahaha! How dastardly!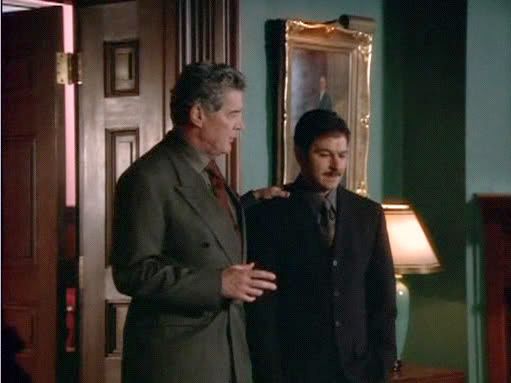 Then Stonegal kicks the Antichrist out of his office so that he can get it on with his mustachioed friend, Snidey McWhiplash. Snidey is not convinced that The Arabs will get behind the whole World Peace thing. After all, "their children cry from hunger yet they still chose war." But Stonegal's got it covered. The Arabs just aren't starving enough. Once their children actually start dying, they'll be all about the peace. Apparently, a little planned starvation is the key to solving the problems caused by centuries of imperialist interference in the Middle East. The good news is that that's pretty much what the Israelis are trying in Gaza IRL, so the conflict should be over in no time.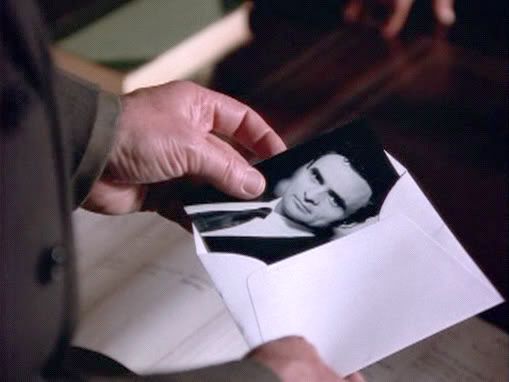 But there's one little bump along the Roadmap to Peace. It seems that Dirk the conspiracy theorist is actually on to something, and the Jew bankers must have him terminated. Ruh-roh!



Steele's plane is full of about-to-be-dead children, Bucky, and the implausibly named Hattie Durham. She's the reason Daddy spends so much time at work these days. It seems like Bucky and Hattie already know each other, and that Bucky has pulled some strings to get Hattie a new job at Antichrist Airlines. I mean, the UN.



Steele and Hattie also know each other, in the Biblical sense of the word. Or maybe not. This is very unclear. In the book, he has never touched her; he just plays all sorts of really kinky head games with her that we're supposed to believe is somehow better than actually physically cheating on his wife. And her dialogue in this scene seems to suggest that all he's done is lead her on, but at least they get to kiss, unlike in the book. Anyway, it doesn't really matter, because God chooses this particular moment to take out a large percentage of the world's population. Finally.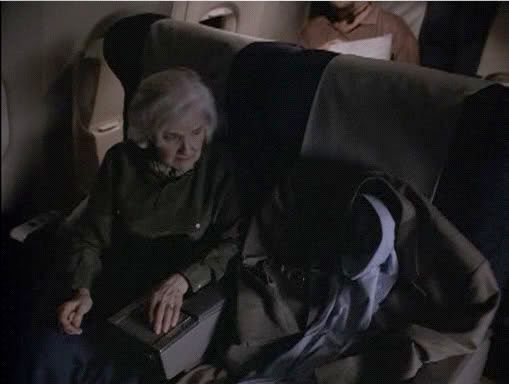 Old Lady: "Excuse me, have you seen my husband?"
Bucky: "I'm sure he's just gone to the washroom."
Old Lady: "Do me a favour and check?"
Bucky: "Sure."
Old Lady: "Oh, and take his pants, will you? He seems to have forgotten to put them on."

This is one of those scenes that shows just how much of an improvement the movie is over the book. I mean, it's still a shite movie, but this particular scene is actually not bad in terms of creepiness. Here's how the same scene is described in the book:

Harold's clothes were in a neat pile on his seat, his glasses and hearing aid on top. The pant legs still hung over the edge and led to his shoes and socks.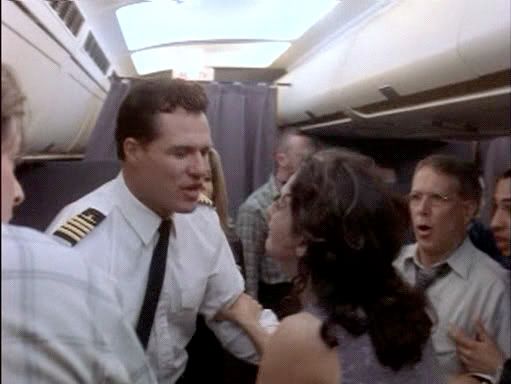 In the movie, there are a bunch of scenes of panicked passengers, screaming parents, and abandoned clothes and toys. It's cheesy, it's over-the-top, but there's a sense of building horror that Jenkins' tepid prose can't possibly convey.



Bucky and Steele engage in some manly wrestling with a fellow who has decided, wisely I think, to jump out of the plane rather than take a chance of disappearing.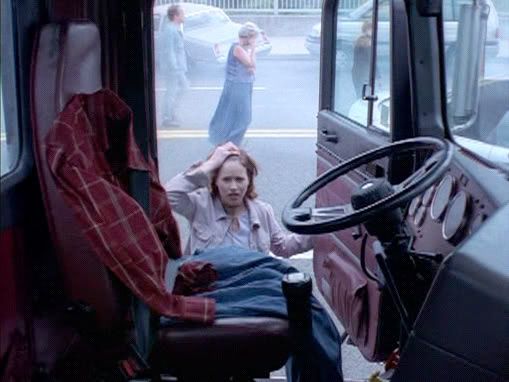 Chloe has a WTF? moment as she stumbles upon an accident scene. A truck driver has disappeared, leaving his clothes behind, and the clothes can't drive the truck. So it rams into a bunch of cars and a school bus, killing and injuring countless people. Chloe doesn't know that this sort of tragedy is now happening all over the world, and thus we can't fault her for not immediately thinking, "What sort of a just and loving God would pull an asshattish stunt like this?"

Then someone steals her car. Pwned!



Sikhs don't go to heaven.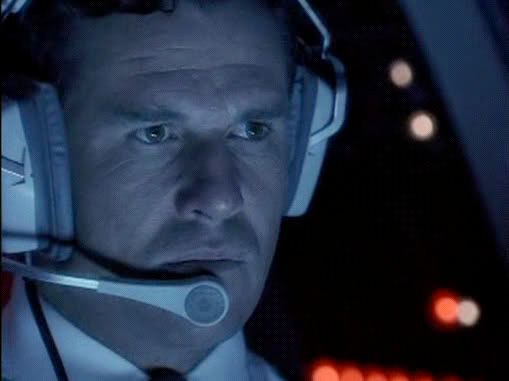 Steele finds out that his plane isn't the only one that came up short a few passengers and turns back.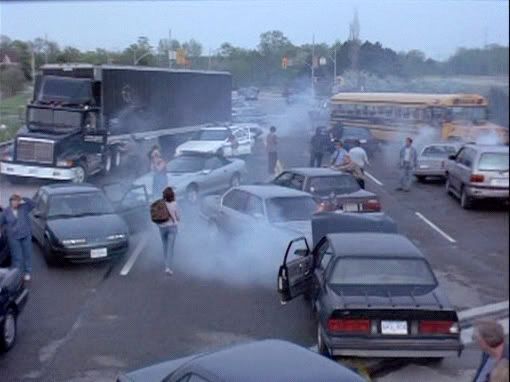 Chloe can't make it to her fancy pants college now due to the Apocalypse, so she walks home. See, God really doesn't want women to get an education.

Next up: Steele finds the firm, hard shaft of Jesus Christ, and becomes even more insufferable.

* Porn star names may not be 100% accurate.