Part I be here. But before I continue, let us contemplate the strange phenomenon that is Christian art.

Christians have done some truly shitty things, like the Crusades and the Inquisition and the Spanish Civil War, but let's not forget that they have also done some cool things too. Much of the great art, music, and literature, at least in the West, has been inspired by genuine love of Jesus. But that's not good enough for the fundies. When we talk about Christian art as a modern marketing category, we're not talking about "Going Home," or Handel's Messiah. We're talking about this sort of pablum. Thomas Kinkade, not Michelangelo's Pietà. Left Behind, not Dante's Inferno.

Which is something I truly don't understand. As far as I can tell, Christian art serves two purposes beyond the purely aesthetic: First, to confirm the faith felt by believers, and second, as propaganda to convert non-believers. Skill and art are key in both cases; if you contemplate a superlative being, said being must inspire greatness in its followers. The primary goal of Christian art would be, presumably, to allow both believers and non-believers to better understand questions of faith.

Left Behind fails miserably in this regard, and owing to its popularity, speaks to a certain degradation of theological discourse. The authors do not even expect their readers (Christian or non-Christian) to be able to grasp a clever allegory like the ones in the Chronicles of Narnia or A Prayer for Owen Meany. (And I'm not even sure that you'd find those books in a Christian bookstore.) Left Behind's audience must be taunted and threatened into believing, out of fear, that if they don't say the magic words right now, Jesus could come back and they'll be left holding the bag.

Anyway, when we'd left off, Buck and Steele were in an airplane with half of its passengers missing, and Chloe was wondering if she'd get a refund on her tuition.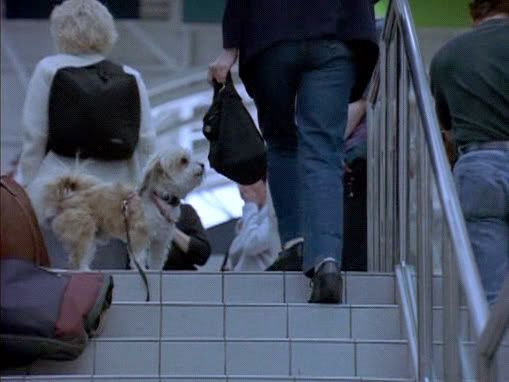 Disney lied. Not all dogs go to heaven. This particular dog fornicated with his master's slipper and peed on the rug.



According to the news, George Bush does get to go to heaven. Do you want to go to a heaven that has George Bush, but no dogs? I don't.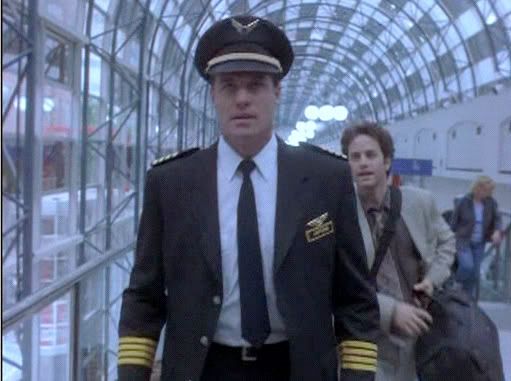 Steele finds out that he can get a flight out of Chicago. He won't take Hattie, but he agrees to take Bucky. Interpret that as you will.



Steele returns home to find that not only have his wife and son vanished, but Irene had really bad taste in lingerie.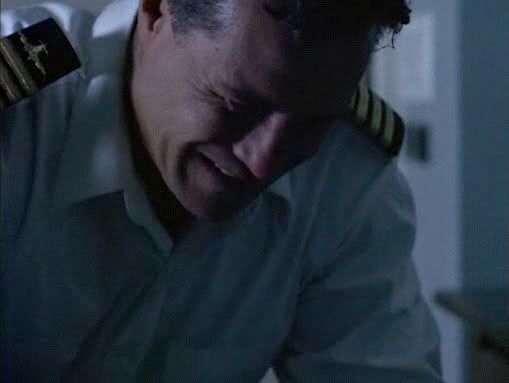 He emotes. In a manly way. Without snot bubbles.


"DO NOT WANT!"

Through the shards of the mirror of woe, Rayford Steele contemplates the entropy of the universe and how we all must die, broken and alone, our lives shattered and meaningless.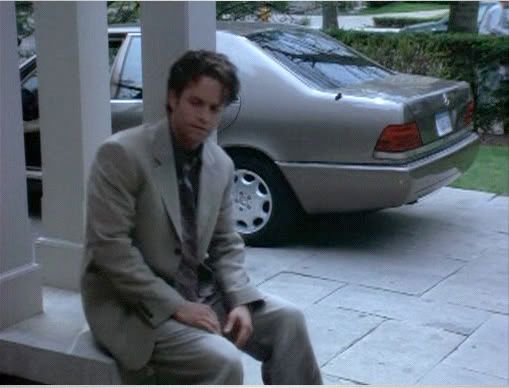 Meanwhile, Bucky is still waiting outside, all, "What's taking this guy so long?"



Time passes. Now it's night. Bucky is still waiting for Steele to stop emoting. I mentioned that Bucky wasn't very bright, didn't I?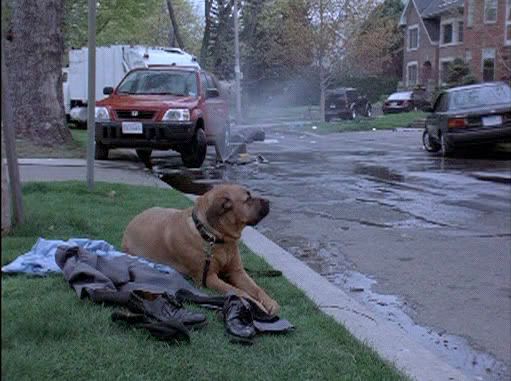 I don't know what this dog did wrong. He probably bit the mailman. Or maybe Jesus is allergic to dogs.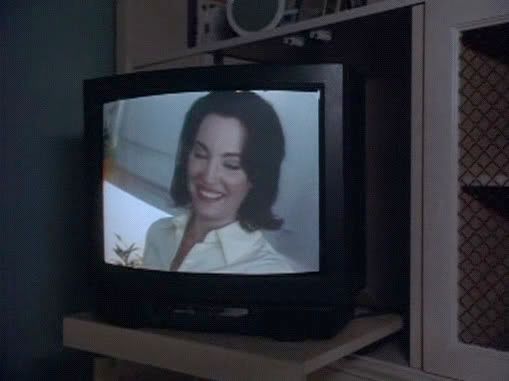 Steele watches creepy videos of his creepy dead son and his creepy dead wife and her creepy plastic surgery face. Honestly, the woman looks like Michael Jackson. He should be happy that she's out of his life.



The real reason why Chloe and Steele got Left Behind is because incest is a sin in the eyes of God. A sin!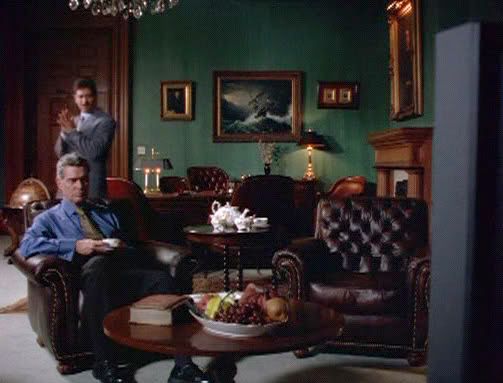 Snidey McWhiplash cackles and rubs his hands together. "Eeexcellent," he says. None of their dudes got disappeared.



I just hate it when I wake up and find one of those couch-surfing hippies stinking up my living room, don't you? But because girls are idiots for any guy who says he plays in a band and doesn't have time for a job right now, Chloe agrees to drive him to find some pilot who can fly him to New York.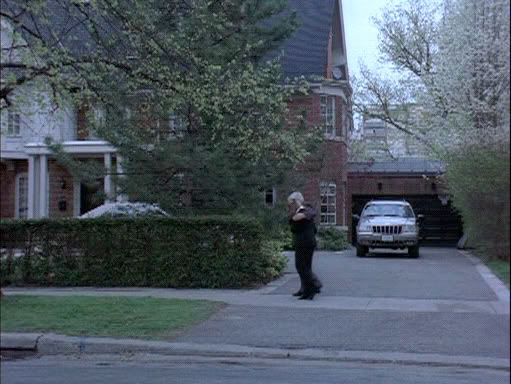 One thing I do appreciate about the movie is that there are these constant reminders that a whole bunch of people just lost loved ones, with emotionally distraught extras running into the scene every so often. In the book, all of the characters pretty much forget about the disappearances after a week.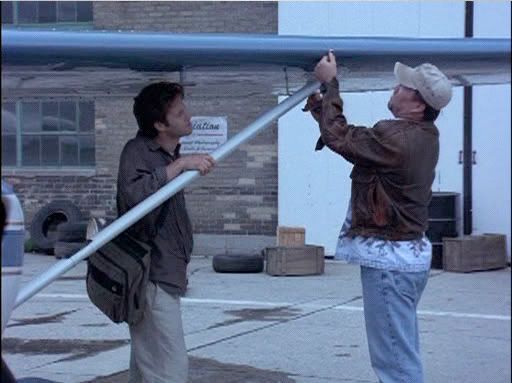 Bucky tosses around some theories with his new pilot friend, who is in a remarkably good mood given that a whole bunch of people just disappeared. Keep in mind that this is the day after the Apocalypse. His idea of a joke? "Some guy on the radio quoted a good one from the Bible. Two men standing in a field, one of them gone, the other's just left standing there? Two women standing in a kitchen. One of them disappears, the other's left doing the dishes." I guess God didn't find this guy funny either, which is why he doesn't get to be in heaven.

Anyway, Bucky is a bit of a better journalist in the movie than he is in the book, because he actually tries to figure out what all the missing people had in common. At this point in the book, I think all he goes on about is how hot Nicky Carpathia is.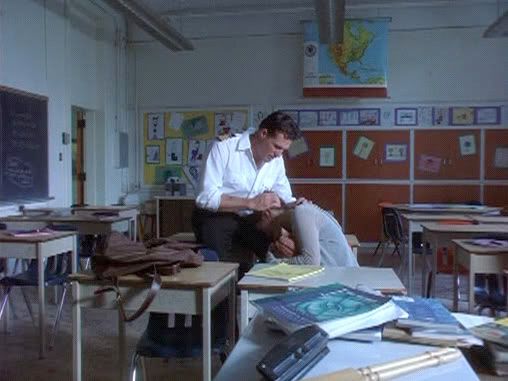 I swear this isn't what it looks like. But if you're going to sin, sin big.



OMG! A second plane just crashed into Rayford Steele's massively swollen head!



Biblical prophecy expert LaHaye does not do a particularly good job of predicting the future.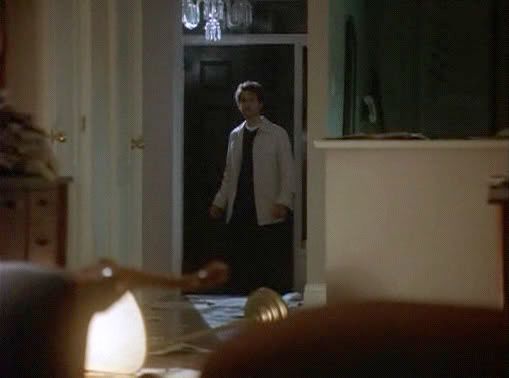 Bucky searches for his friend Dirk. Anyone who has ever seen any conspiracy movie ever knows what happened to Dirk, but we're treated to a sequence of the trashed apartment and the Left Behind pet mouse (he gluttonously ate too many sunflower seeds) before we get to Dirk's corpse. Anyway, Dirk's killers are very stupid Jew bankers because they could have just hid the body somewhere but instead left it in the house, leading Bucky to conclude that Dirk did, indeed, get Too Close to the Truth.

Anyway, Bucky does manage to get his little disk thing with all of the information from the ZOG's computer.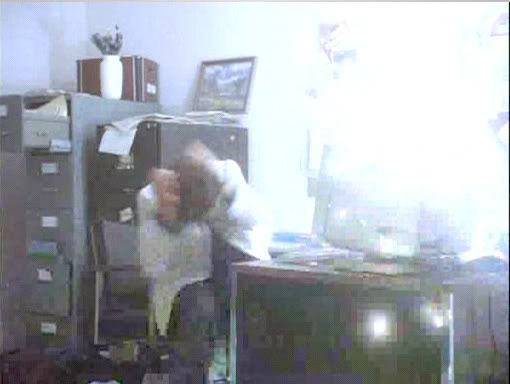 He's about to check Dirk's Facebook to see if the status update has been changed to "is dead," when a sniper shoots the computer. Why said sniper didn't just kill Bucky is beyond me, considering he had a clear shot and was aiming at Bucky earlier.



Token black guys don't go to heaven.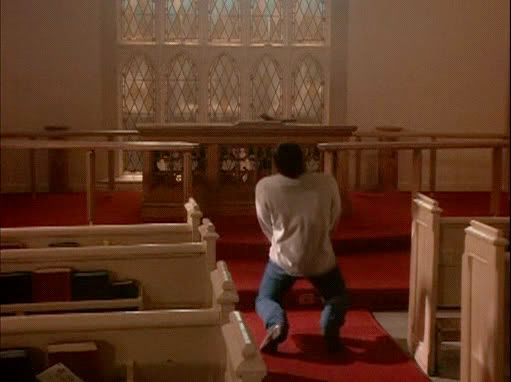 Bruce knocks over the cross and then whizzes on the altar. Is it any wonder that God decided not to call him home?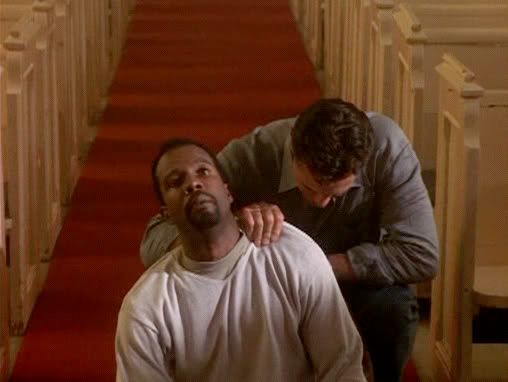 Bruce prays for God to forgive him, give him one last chance, he brought flowers and chocolate and everything, and it meant nothing with that other girl, it was just se—

Sorry. Wrong movie. Steele sneaks up behind him and they make out. In a Godly way.



The old pastor of the New Hope church has left a videotape explaining that all of those missing people aren't dead at all. They're just in heaven! With Jesus! Which is not the same as being dead at all.



Cultural Appropriation Girl tries to brain Bucky with a saucepan and then they make out. Or, rather, they all look at the thing that Dirk had on the disk, which is a plan for invading Israel. It's a bit outdated, given that the attempted invasion already happened.



It also includes a plan for rebuilding Solomon's Temple, which suggests that Nicky knew the whole invading Israel thing wouldn't work. That means that the Russian and Ethiopian air force was wiped out for nothing. Meanie!



Nicky and Chaim look over the paper version of the Temple thing. Chaim gets really excited because, of course, all Jews get excited over the idea of rebuilding the Temple.



Nicky is the first public figure to actually present a theory of why all those people disappeared. I mean, it's a stupid theory (they disappeared because of accumulated radiation from nuclear weapons testing), but since he's the only one who mentions it, he gets a bit of credit for trying. He pronounces it "NEW-COO-LAR," though, so the credit gets taken away.

If I remember correctly, the book doesn't give an actual estimate of how many people God suddenly killed, but the movie does: 142,380,000, or approximately 2% of the global population. That's lower than the sense you get from the scene on the plane, so I guess more godly people tend to fly.

What is even sillier, though, is that they've already said that all children, along with all extra-special fundie evangelical Christian adults who really believed in Jesus as opposed to the ones who were faking it, disappeared. (In the book, this includes fetuses, putting abortion clinics out of work.) Let's look at the 2006 world census broken down by age. It's ambiguous as to how the Left Behind authors define the age at which a child is no longer innocent, but for the sake of argument, let's cut it off at 9. (Remember junior high? Some of those kids were real shits.) Children between the ages of 0 and 9 make up 18.5% of the world's population. It took me about five minutes on Google to find that out—five minutes the authors and filmmakers didn't take when doing their research.

Anyway, because NEW-COO-LAR weapons caused the disappearances of however-many people, Nicky proposes disarmament. Because he's evil that way. He also says that Chaim has agreed to help out with the whole world hunger issue. Cultural Appropriation Girl approves. But Bucky is freaked out when the camera pans back to reveal…



…Jew bankers!



Hattie shows up in the middle of the night to announce that she's going to the UN to be a flight attendant on Antichrist Airlines. You know, unless Steele can offer her a reason to stay, seeing as he's now single and all.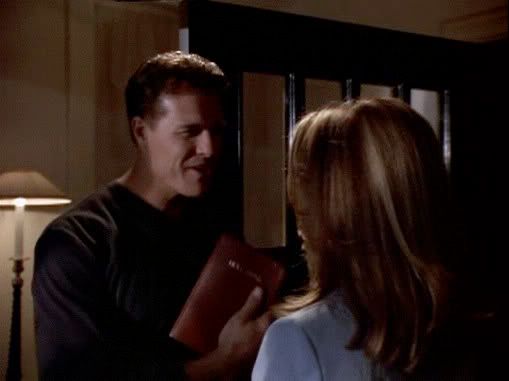 But Steele only needs one person to fill his holes, and that's Jesus. Hattie thinks that's as lame as I do.



Chloe's been eavesdropping and is none too pleased. But Steele goes on a long monologue about how Irene was really right, and loved them sooo much but he was jealous of how she loved Jesus more than him so he totally ignored his family.

Chloe finally realizes that "in heaven" means "dead." And that God is a bit of a prick for condemning people to hell and so on. The whole conversation is really stupid and Steele dodges every one of Chloe's rather legitimate questions. This is the closest to a theological debate we'll ever get in Left Behind, so enjoy it while you can.

Next time: Things explode, the Antichrist rises, and we find out more than we needed to know about twisted fundamentalist sexuality.