If you're just tuning in, Part I, Part II, and Part III.

For a movie with almost no plot, it's generated quite a long review-type thing. Largely because I like explosions and wanted to show you a lot of them. We ended the last installment in a place of despair, John Rambo's Long Dark Night of the Soul, if you will. He failed to rescue Trautman (I made up the bit about them making out), his little boytoy had been shot, he was a walking shish kabob himself, and he and his terrorist allies had just barely managed to escape through the sewer system and into what one can only imagine is a terrible case of sepsis.

Warning: What happens next is quite squick-worthy and should not be viewed by anyone.





The Littlest Taliban: "I want to stay and fight."

Rambo: "What're you going to do, bleed on them?"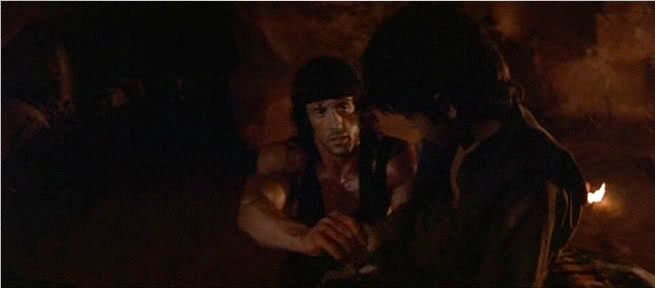 The Littlest Taliban: "But *sniff* but I lurve you! Will I see you again?"

Rambo: "Sure. Have the necklace that I got from my dead ex-girlfriend who made me promise to NEVAR FORGET!!911! her."



Okay folks, are you ready? This is the scene you've been waiting for. It's up there with the Patrick Swayze snot bubble and the part in Live Free or Die Hard where Bruce Willis takes out a helicopter with a car as one of the most manly scenes in cinema history.

Those of you with delicate constitutions may wish to avert your eyes.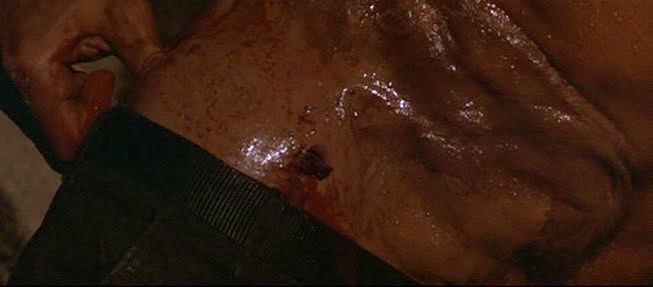 o_O



(Um. That's a bullet. He's cutting the casing to get out the gunpowder. What does he need gunpowder for?)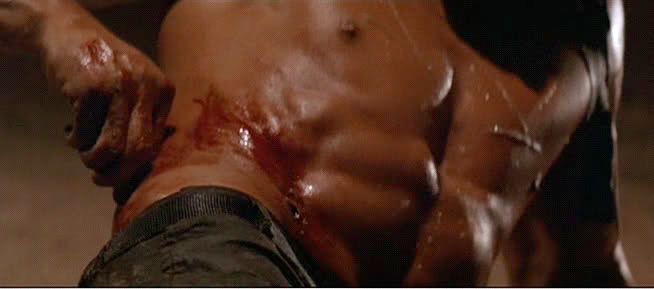 I never saw this on E.R.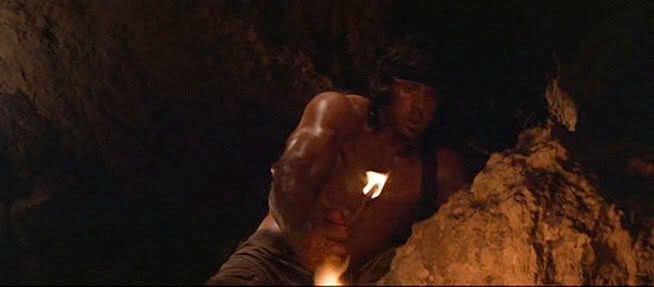 Why did he just pour gunpowder into an open wound, you might ask?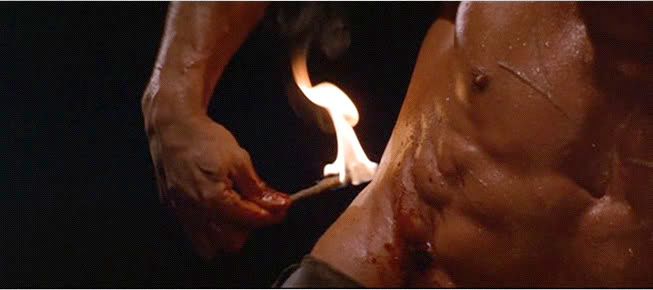 o_O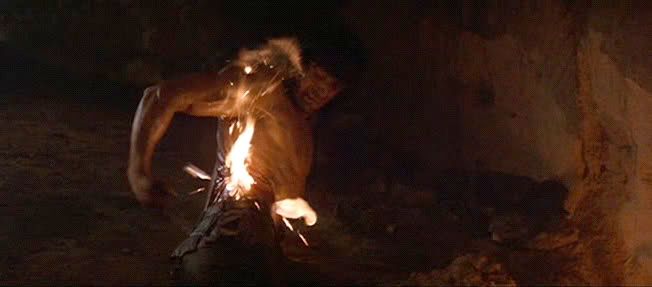 o_O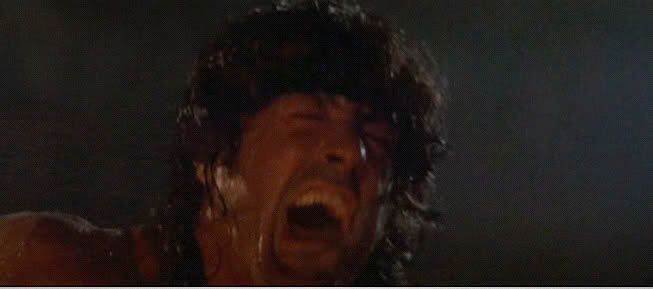 D: D: D:

Yeah, me too, Johnny. Me too.

Jesus fucking Mary on a pogo stick, did he just cauterize the wound with gunpowder? I think we should take a break now.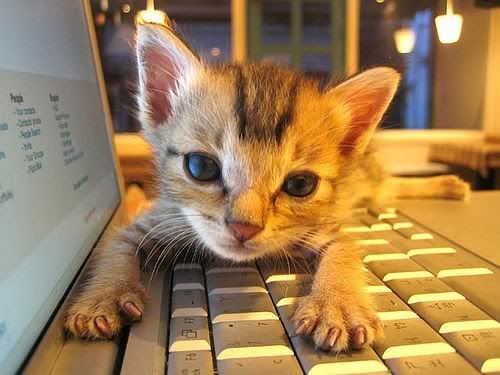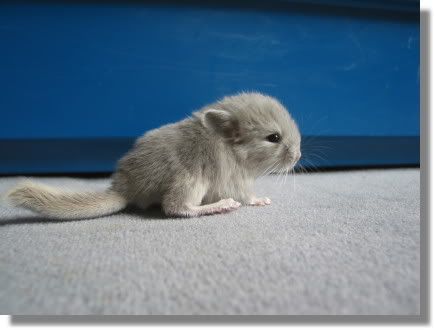 Feeling better? Okay, let's continue.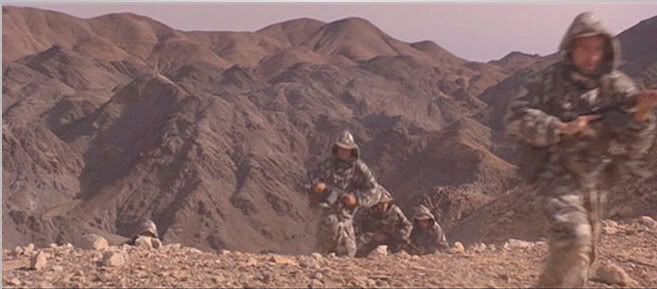 The Russians have about as much luck finding Rambo in Afghanistan as we do finding Osama bin Laden in Afghanistan. They can be excused, however, because no one expects Rambo to be hanging off a cliff. Except for people who have seen the first movie, that is.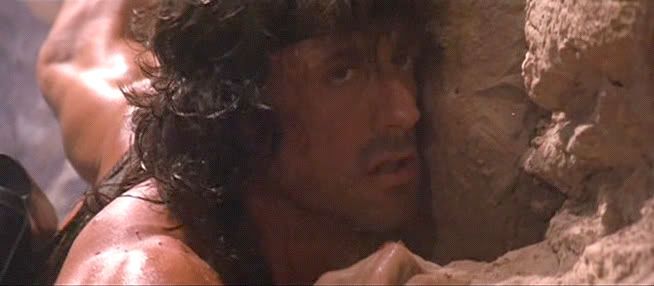 Wait, has anyone checked to see if maybe Osama bin Laden is hanging off a cliff?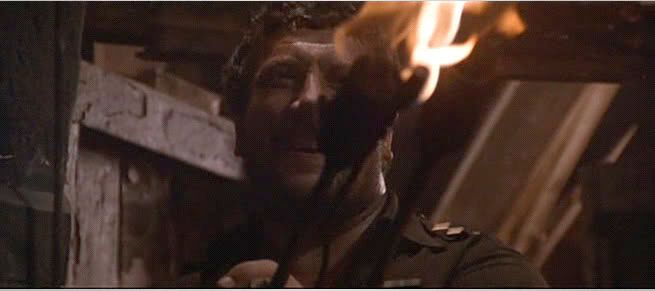 Russian dude: "I has a blowtorch."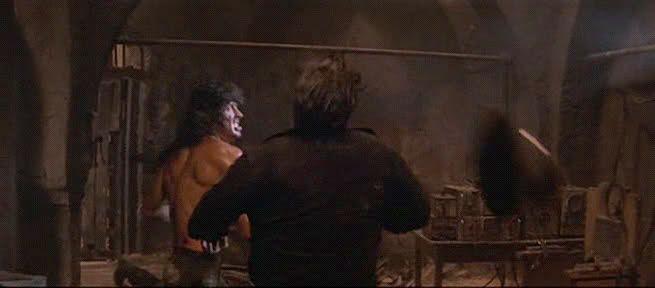 Trautman: "I has a Rambo."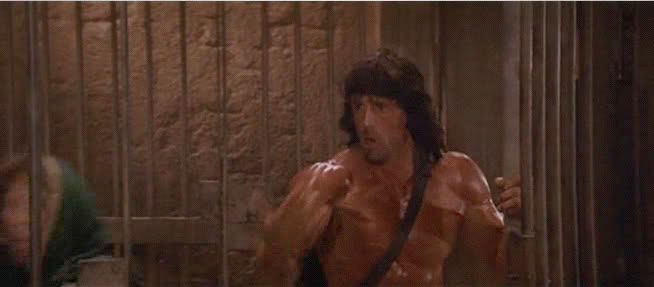 We're here to save the wimminz. The wimminz who don't do anything in this movie besides cower, that is. They don't have any lines at all. In fact, I don't think the West's view of Afghan women has changed one bit in the almost 20 years since this film was released.



Rambo: "Y hello thar buttsecks?"

Trautman: "Maybe later."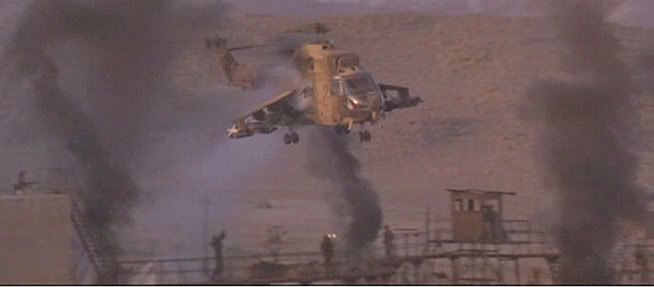 Our heroes make their escape by helicopter. Rambo is not sure he can actually fly this sort of helicopter.



The answer is no, he can't fly it.



Rambo: "Let's get back to Pakistan."

Prisoner: "It's okay, we'll just chill here. It's going to be awesome when the American allies, the mujahadeen, finally kick out the Soviets and take over the country! There'll be peace and freedom, especially for the wimminz here that you just freed. I just know everything will be swell from now on."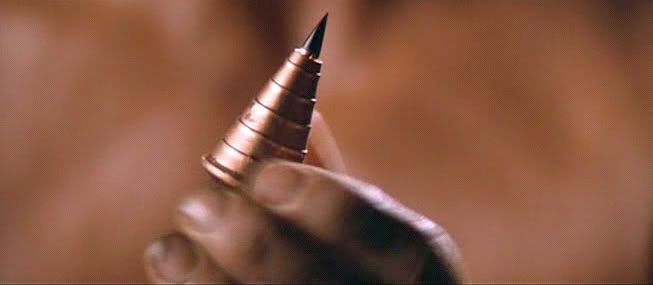 The Russians are still coming. Fortunately, Rambo keeps a crossbow and fancy arrowheads in his ass.

What? Did you see what he was carrying earlier? Where else was he storing it?



What kind of sorry son-of-a-bitch brings a crossbow to a helicopter fight?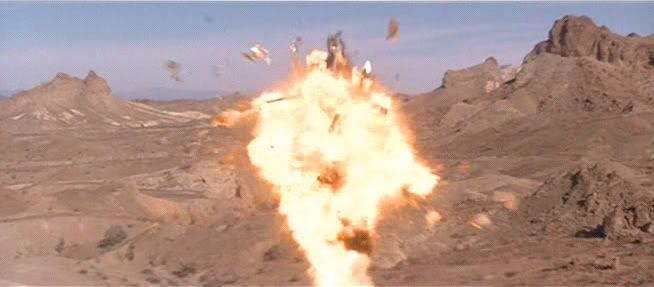 Why yes! Rambo blows up a helicopter with an arrow. Don't worry, my disbelief was un-suspended early on with the whole Rambo-is-now-a-Buddhist thing.



The other bit of dialogue that I like:

Trautman: "I'm sorry I got you into this, John."

Rambo: "No you're not."



Zaysen: "Hey, random redshirt, come in! Are you there, Roger?"



Rambo (on redshirt's walkie-talkie): "Are you listening?"

Zaysen: "Who are you?"

There's a great moment here when Rambo, by dint of being an absolute moron, can't think of anything snappy to say. He looks confused and then mutters: "Your worst nightmare." But it's completely underwhelming and goofy.



Russian dude: "No one told me there was going to be a rave!"



Because the glowstick was attached to a grenade. Um, when did Rambo have the time to set that up? It's not quite as bad as the non-lethal-impalement-trap in the first movie, but it's getting there.

Anyway, there is lots of running around in the dark and many explosions and we learn that crossbows beat machine guns. I won't go into it here because it's basically ten minutes of "Rambo glowers, guy explodes."




Ruh roh! The massive bear dude with the blowtorch somehow survived being killed earlier in the movie.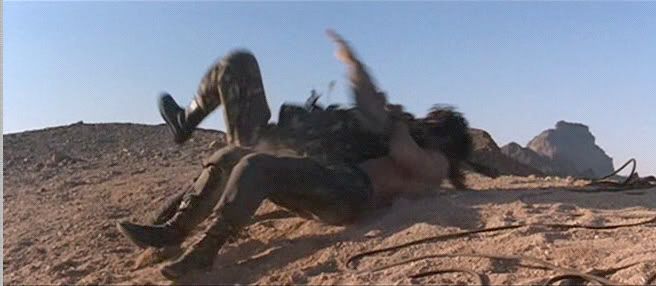 Rambo is a pushy bottom. Who would have guessed?



Not what it looks like.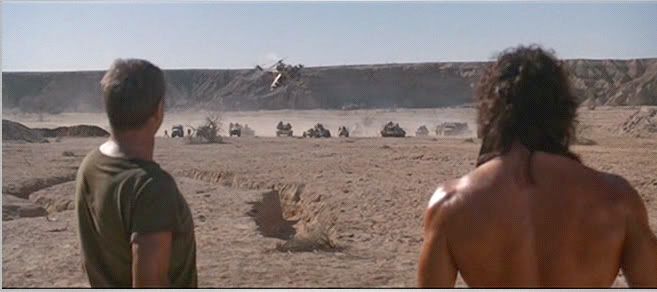 This could be a problem.



But never fear! It's the Taliban to the rescue!



Yay! Jihad!

(Oh yes, and he takes out a tank with the Molotov.)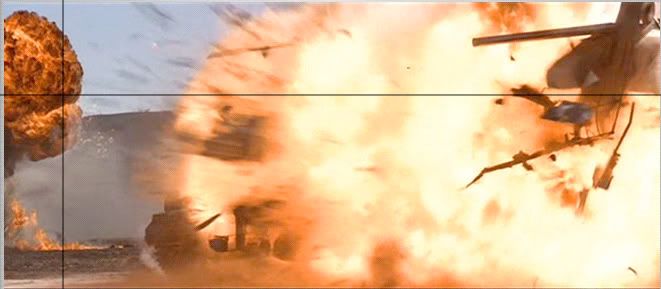 A tank can beat a helicopter, in case you were wondering. Actually, judging by the first movie, a well-aimed rock can beat a helicopter, so I'm not really surprised.



The Littlest Taliban: "Will you guys be my new dads?"

Rambo: "No, but you can keep the necklace."

Hawaiian, I mean Vietnamese girl from the second movie: *ROLLS OVER IN HER MASS GRAVE*



Mousa: "See you in a couple years, when you carpet bomb my village, put a whole new group of warlords in power, and throw Hamid in Guantanamo Bay."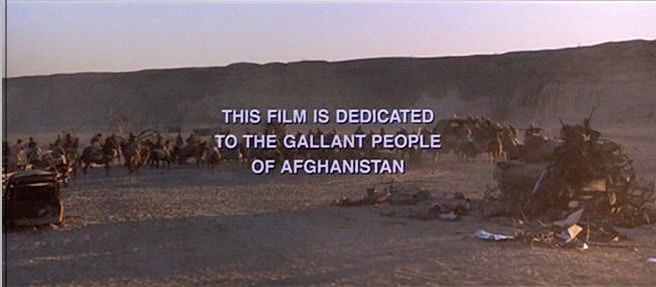 Ahahaha

hahahaha

haha

*sob*

The end! I hope your enjoyment of this series of posts was inversely proportionate to how much I enjoyed the film itself!