When we last left our heroes, everyone was fighting for no reason, and Django was dressed up like a giant turtle. Oh, and the cop's wife had the most predictable miscarriage in the history of cinema.





The Republic of Guinea will now be played by Jay. What happened to the actual delegate, I wonder? Did Jay beat him up (non-violently) and steal his suit? Because that might be a scene that would be good to include instead of all those scenes where Jay fights with the women in his life.

Anyway, Jay, I salute you. Putting on a suit is the greatest sacrifice that a hippie can make.

Also, if you notice, he did put on a tie to sneak into the WTO summit, but he did not bother to wash his greasy hippie hair.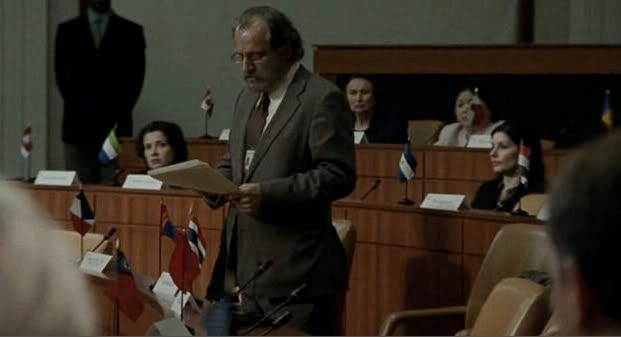 Of course, the meeting he chose to infiltrate happens to be the one where Merrick is making his impassioned but utterly doomed plea. Merrick is quickly treated to a round of Mock the Idealist by a lobbyist for the pharmaceutical industry, and flees the room before the guy is finished talking.



Jay wastes a perfectly good opportunity to do something useful by screaming about how the WTO kills trees and killed his brother. All that work getting in, and he accomplishes nothing but being thrown out on his ass. His wardrobe sacrifice was in vain.

Then we get another flashback of Jay running through the woods and getting arrested. How the WTO killed his brother is never explained.

Then he cries. It's unconvincing.



Jay: "No one can know the all-encompassing darkness that is within my tormented soul."

Protesters: "Ain't no power like the power of the people 'cause the power of the people don't stop say WHAT?"

Sad music: *swells*

Irony: "Can I take a break for a bit? It's been a long couple days."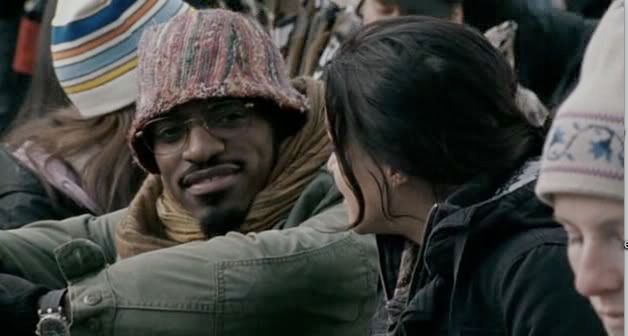 Lou: "How come you're such a happy racial stereotype all the time and I'm such an angry racial stereotype?"

Django gives her a longwinded Wise Magical Negro story about a little turtle that survives being made fun of and then gets its shell cracked but he gets better and comes out stronger at the end.

Lou: "And then what happened?"

Django: "The WTO turned him into an ashtray."

Lou: o_O "YOU SO CRAZY DJANGO."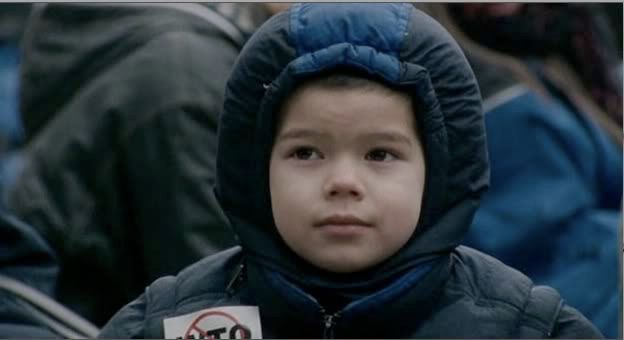 Officer Woody sees a child that could be just like his child if his child wasn't the Poor Doomed Fetus. And if his child were Asian.



Officer Woody is a woekitten. But he puts on his Literal and Metaphorical Armour and prepares to kick some hippie ass.



Django and Lou get arrested. At one point Jay shows up and tries to help (for some reason he's found the time to change out of his suit and into a more normal hippie uniform) but then he backs off and stares soulfully as his wisecracking sidekick and feisty love interest are carted away in the Ironic Bus of Irony.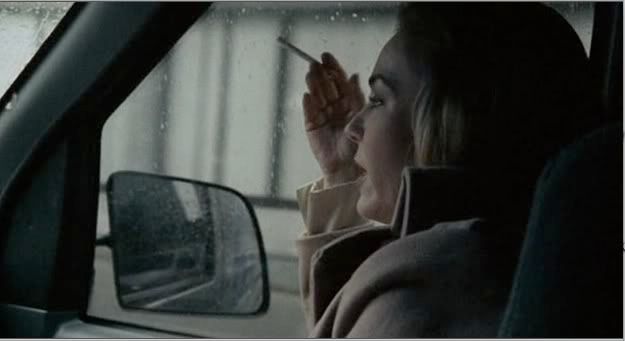 Jean, on her way to do a live broadcast about Clinton's arrival at the summit, has a conversation with her cameraman about why the protesters keep persevering in their unwinnable struggle against corporate evil.

Cameraman: "Because they think they can win."

Jean, her tough façade cracked like the shells of so many sea turtles, tosses aside her cigarette of moral ambiguity and decides to throw away her career (and the camerman's) for the sake of what is right.

They're still going LIVE, though.



Jean sucks. If she's going to go down in flames, she should have at least thrown a brick through a Starbucks window or something.

The attempt of the anchor, after they've cut Jean's signal, to explain what just happened approaches being funny, but just misses.



Of course, as soon as the camera stops rolling, the duct tape comes off so that Jean can earnestly thank the protesters and then get arrested.



You'll be forgiven if you don't remember Nathan What's His Face, the African guy from the beginning of the movie. I didn't remember him either, though he's by far the most likeable character in the movie. He's trying to make a caucus with other Third World delegates to form a united front against the industrialized countries, but the conference organizers take away his interpreters to work at an unscheduled labour meeting.

This is the beginning of the most significant thing (and by all rights, Abasi should be the most significant character in the movie) that happened at the WTO summit, but the whole deal with the delegates from poor countries is never really explained, and this is one of only two scenes that alludes to it. By the way—SPOILER ALERT—guess who actually caused the talks to collapse?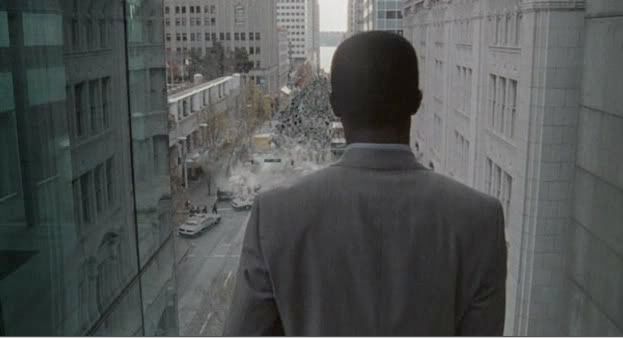 Abasi gazes out at the protesters and wishes he could be a hippie too. The inspiration for his historically inevitable rebellion at the end apparently comes from all those idealistic white folks, and not from the suffering of his own people.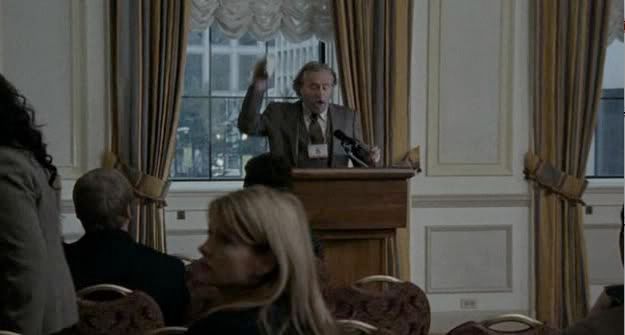 No one at the WTO wants to stick around for Merrick's completely boring and unglamourous talk on how patent laws are screwing over people with AIDS in the Third World. They just all walk out. I should add that Merrick, despite crappy acting and crappy dialogue, is the only character besides Abasi that I didn't want to punch in the face, and he only gets slightly more screen time.

Merrick: "DON'T YOU PEOPLE CARE ABOUT SUFFERING AIDS VICTIMS? SHOULDN'T PEOPLE MATTER MORE THAN PROFITS?"

WTO: "Did you forget which conference you were at?"



In what is likely the worst scene in the entire movie, Django (played by the guy from OutKast, who should know better), sings a charming rendition of "Don't Worry, Be Happy" to the bus full of people headed to jail. Because he is a Magical Negro full of sunshine and light and has no concern for his own well-being.

Then he dispenses more wise life advice to Lou. He mentions—twenty minutes or so before the end of the movie—that Jay has been arrested twice and under the Three Strikes Law, if he's convicted of a crime again, he goes to jail for life. This is a great example of the movie's shoddy writing and lack of attention to structure. It might have actually created some dramatic tension to mention this at the beginning, and if we liked Jay as a character at all (not like we do), we might have been a little concerned for him, and sympathetic to the rather cowardly pose he strikes throughout the story, and his earlier actions would seem a bit more heroic in context. As it is, though, all this information tells us is that as soon as Jay shows up on screen, he'll get arrested.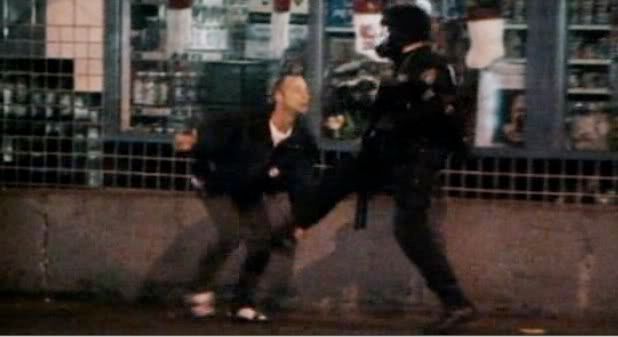 This scene would have been better if it were Jay getting kicked in the balls. Just saying.



Instead, Jay is still screaming about non-violence. This time Mr. Take Your Mask Off has accessorized at least.

Officer Woody, still angsting from having lost the Poor Doomed Fetus and then having a water bottle full of piss thrown on his helmet by people who feel the same way about his acting as I do, shoots some random kid with a rubber bullet. This is an excuse for Jay to get all self-righteous. Er, more self-righteous.

Jay: "HE WAS JUST A KID! WOULD YOU SHOOT YOUR OWN KID?"

Officer Woody: "Can you think of a phrase in there that you probably shouldn't have said?"



After a really dumb chase sequence through a subway car and a church that's empty except for an organist playing more sad Christmas carols, Officer Woody finally delivers the brutal beat-down that Jay so richly deserves.

He's rescued by the cop who was the agent provocateur, who arrests him anyway.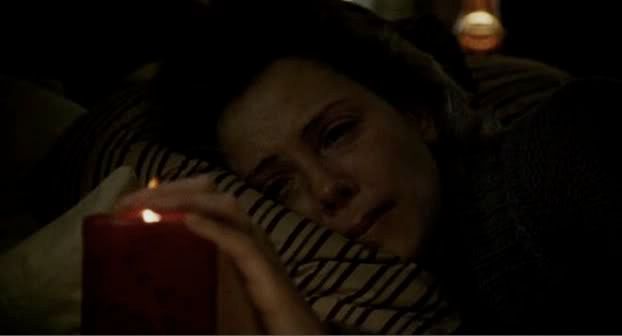 As Officer Woody stalks the gloomy streets of urban decay, his wife snuffs out the candles of anvillicious symbolism.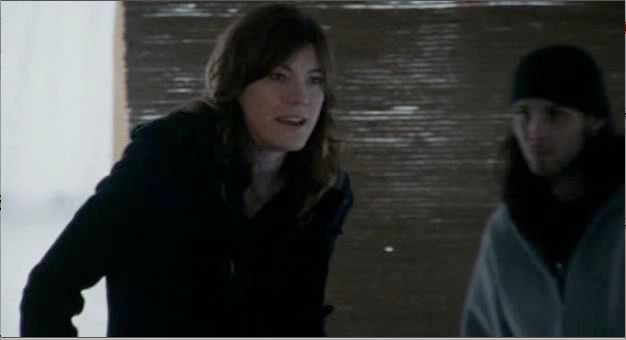 The remaining protesters are all ready to leave, but plucky Samantha gets up to make an impassioned speech about how they can't quit now. A musical number would have worked really well here, I think.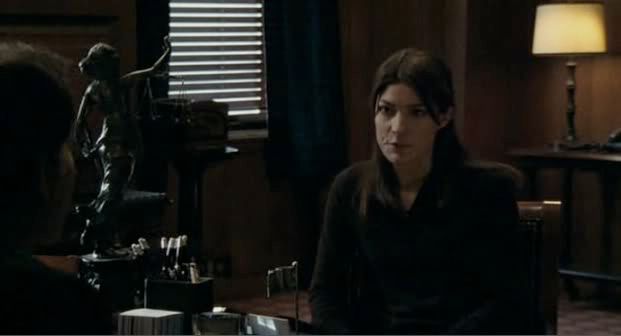 Samantha meets with the mayor on behalf of the 600 people who have gotten arrested. He makes some nice use of the passive voice and then tells her that if the known protesters agree to not protest anything for two years, they'll be released immediately.

Samantha: "LOL."



She leaves him her card. She is seemingly incapable of doing this in a way that isn't symbolic.



For reasons of plot contrivance, and despite the fact that they were shown before and after being warehoused with all of the other arrested people, Lou and Jay are moved into adjoining private cells for long enough to sniffle at each other and hold hands.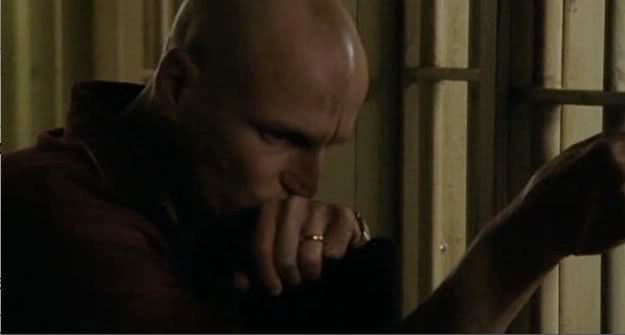 Officer Woody visits Jay to repent and whine about his Poor Doomed Fetus. Jay moralizes about how it's not the oppressive arm of the state that's the real problem and cops are people too.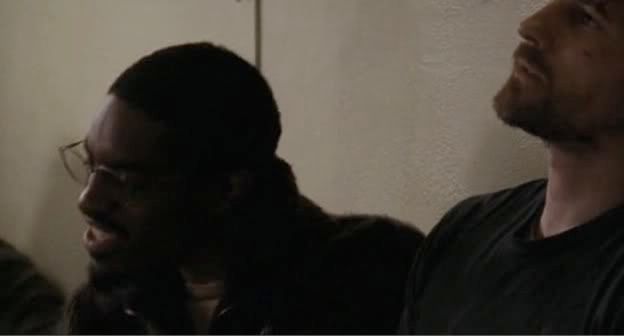 Django offers Jay some more turtle-based wisdom ("slow and steady wins the race"), but Jay is having none of his Magical Negroizing.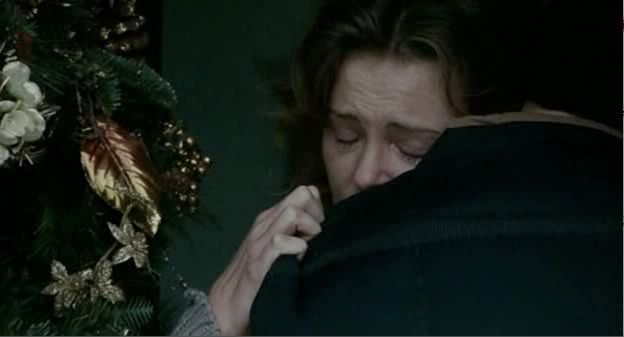 With only 10-15 minutes left in the movie, Stuart Townsend gives up on narrative resolution entirely, instead showing us a series of hugs. First up is Officer Woody and his wife.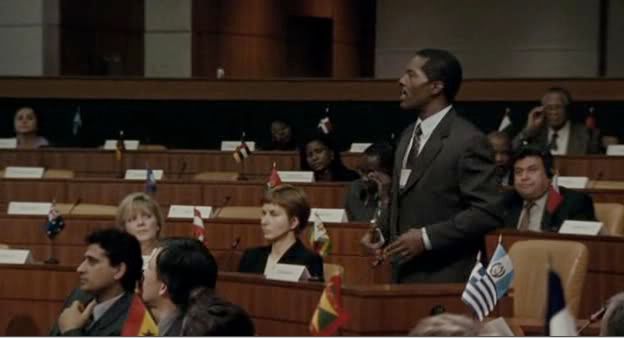 Abasi and the other Third World delegates collapse the WTO talks. This moment of great historical significance is a footnote in a movie that's largely about whether or not Jay and Lou are going to get together.



Samantha uses the big crowd of protesters assembled outside of the jail to deliver the final bit of plot: The WTO talks have collapsed, and all of the prisoners will be freed without charges.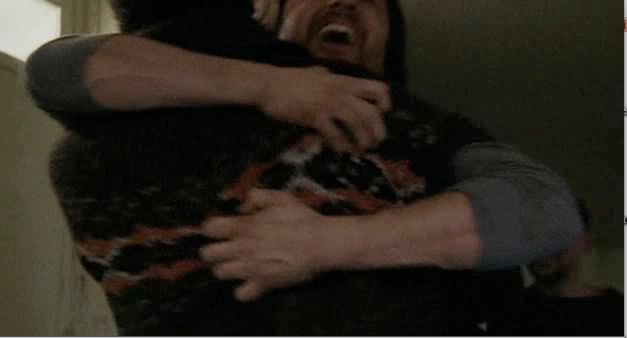 It is it can be hugz tiem nao.



MOAR HUGZ.



This is a kissing movie? You didn't tell me that this was gonna be a kissing movie!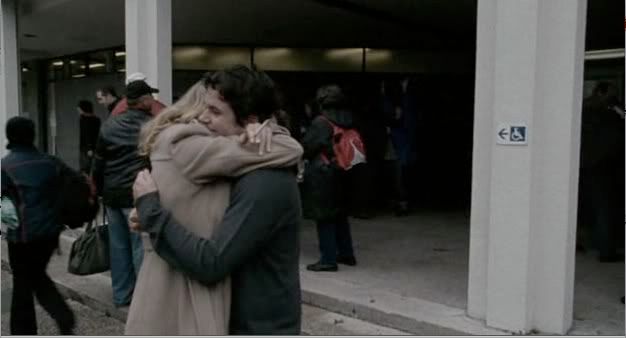 I think for a second that Jean and the camera guy are going to have a conversation about what they've learned, but instead they—you guessed it—hug.



One of the few bits to genuinely get a laugh out of me.



The movie's over, but there's still the credits, in which some last-minute infodumping explains that some stuff changed but most stuff stayed the same.

The end!


Afterword

As I'm writing this, I realize what it is specifically that bothers me about the movie. It's a movie about the Sixties, the Vietnam protests in particular, that happens to be set in 1999.

I mean, who ended the Vietnam War? The pop culture narrative is that dope-smoking hippies did; the myth that progressives tell themselves is that activists did. In reality, of course, it was the Vietnamese who ended it—by winning. But we seem to feel the need to transform it into a story where both heroes and villains are American.

So who collapsed the WTO? The protesters in part, although it's a minor victory in terms of overall impact on global capitalism, but talks actually collapsed because of the Third World delegates. And the protagonists in the broader struggle are mostly not the handful of young activists who go to protests, but the people in the Third World who fight much tougher battles than N30 just to stay alive. Not that I don't think that it's important for us to get involved, to do everything we can even if it's just yelling in the street, but the glorification of a particularly dramatic form of activism that by coincidence is largely done by young, attractive white people, is misguided.

I am not very nice, I know. If I were, you wouldn't read these reviews.

Also, this review hits the nail on the head:

In the case of the lead organizer Jay (Henderson), this means that his brother was killed while protesting a timber company. (This is presumably based on the real-life death of the EarthFirst! activist David Chain, who was killed in 1998 when a logger felled a tree that landed on top of him.) As the film's production notes explain, "For these protesters, this is very personal and the stakes are higher than mere politics."

But with this elevation of personal grievances over "mere politics," Battle in Seattle follows the same logic of the neoliberal ideology at the heart of groups like the WTO, an ideology that privileges personal freedom (and individual wealth) over any collective political action that aims to redistribute wealth or natural resources more equitably and sustainably.